Veterans: Looking for a home-based business opportunity?
| Category: Healthy Finances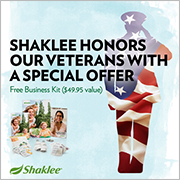 Are you looking for a home-based business opportunity that can give you a substantial income? Are you interested in business that helps others to create healthier lives and a greener planet? Do you have good marketing skills, social networking skills and/or a desire to learn?
I would like to share with you more about how the Shaklee business model works and how we can work together to help you to achieve a successful business.  Check out a short video clip WeCreatePossibilities .  Use SlimUpBeHealthy@aol.com to enter and please leave your email address for me.
If you decide that you would like to give the business a try, Shaklee has a special offer to honor our veterans. Shaklee offers a special Veterans Promotion of a free distributorship (Distributor Welcome Kit, $49.95 value) to veterans, including those in active military service, to thank and honor them for their service to our country. (Proof of military service is required; some restrictions for active military.)